Ida B. Wells: Pioneering Journalist, Anti-lynching Leader
By Leah Gallant•July 2022•9 Minute Read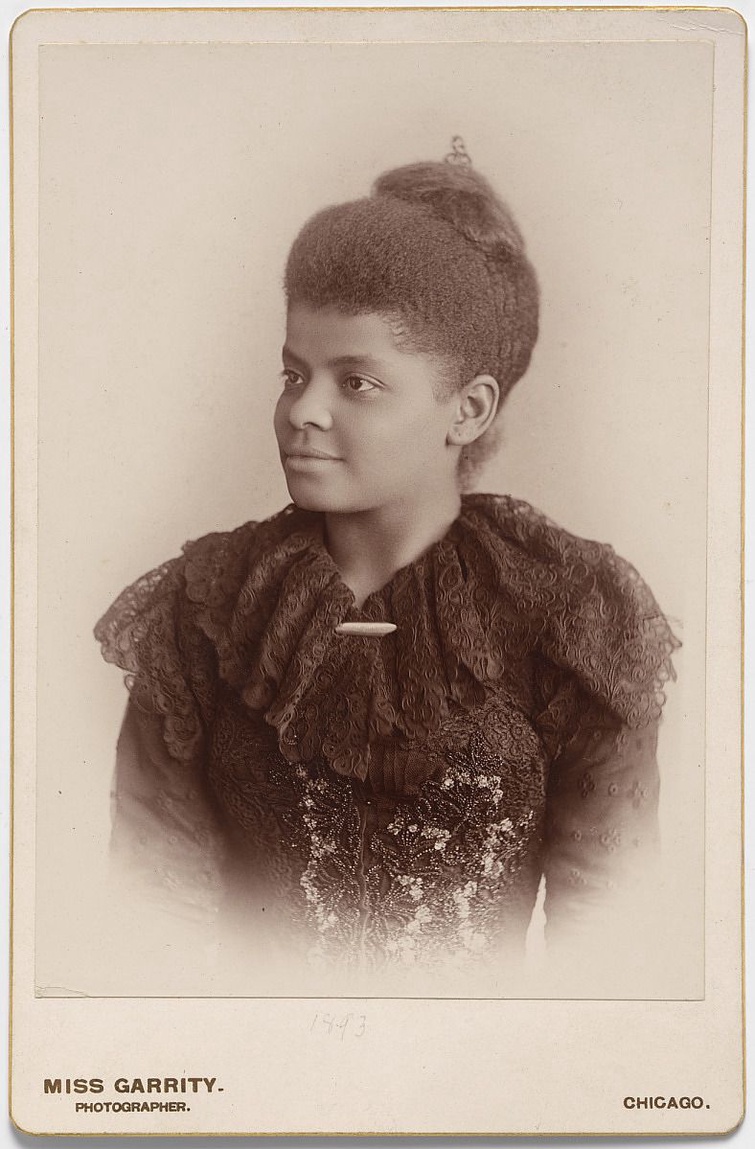 Sallie E. Garrity. Portrait of Ida B. Wells, ca. 1893. Smithsonian Institution. Ida B. Wells fought for the rights of African Americans in her hometown of Chicago, Illinois, nationally, and internationally.
Ida B. Wells was a prominent journalist and activist who shaped the anti-lynching movement. Although she faced discrimination throughout her lifetime from both male civil rights activists and white suffragists, Wells also achieved lasting change in the struggles for women's rights and civil rights.
Writing Towards Justice
On March 29, 2022, some 124 years after activist and journalist Ida B. Wells first lobbied the White House to pass anti-lynching legislation, President Joe Biden signed the Emmett Till Antilynching Act into law. The law makes lynching a federal hate crime. It is the culmination of nearly 200 previous attempts to pass similar laws. Wells was central to the genesis of this struggle. Her work as a writer, public speaker, and tireless activist spurred the anti-lynching movement in the United States. The methods she used to demonstrate that lynchings were racist murders motivated by a fear of growing Black political power pioneered the field now known as investigative journalism.
Wells, later Wells-Barnett, was born into slavery in 1862 in Holly Springs, Mississippi. After Emancipation, her father worked as a skilled carpenter and participated in local politics. When a yellow fever epidemic swept through the town in 1878, killing Wells's parents and youngest brother, Wells became the head of her family at age 16. She moved her five younger siblings to Memphis and worked as a schoolteacher to support them.
Linking Activism and Journalism
Wells made the connection between activism and journalism early on. When she was 21, she refused to leave a train car designated for white passengers. This was more than seventy years before Rosa Parks resisted bus segregation. Wells sued the Chesapeake, Ohio and Southwestern Railroad for violating equal accommodation statutes. Although she won at first, the Tennessee Supreme Court overturned the ruling on appeal. She began writing a series of articles about her experience with the court case, which were published in African American newspapers around the country.1 In addition to encouraging readers to boycott the railroad—a strategy later crucial to the civil rights movement—she also urged African Americans to move away from Memphis.2 Her name as a journalist and civil rights activist grew as a result. She became a contributing editor to Living Way and Evening Star, two weekly African American church papers, and also wrote for the newspapers Indianapolis World and Conservator. In 1889, she bought partial ownership of Black newspaper The Memphis Free Speech and became its coeditor.
The Memphis Free Speech Years
The Memphis Free Speech provided the platform for Wells's influential investigations of lynchings. In 1892, three of Wells's friends were murdered in an incident that came to be known as the People's Grocery lynchings. A disagreement between a Black and a white youth playing marbles outside Thomas Moss's store escalated into a brawl between Black and white residents. Three African American men—Moss, Henry Stewart, and Calvin McDowell—were jailed for defending the grocery against an armed white mob. A crowd seized them from their cells and dragged them a mile outside of Memphis before torturing and killing them. Wells, who was godmother to the first child of one of the victims, published an editorial for the Free Speech, calling for the killers to be brought to justice. She demanded investigations into lynchings across the South.3
Southern Horrors: Wells's Investigative Reporting on Lynchings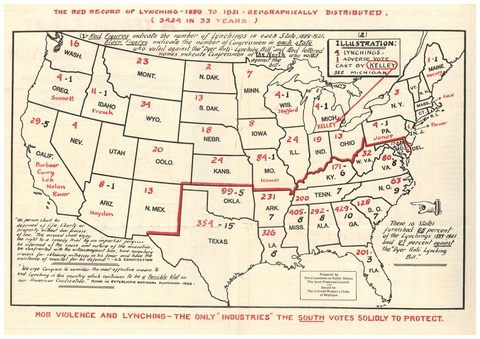 Created by Ida B. Wells and issued by Colored Women's Club of Michigan, Red Record of Lynching Map, 1922. This map was submitted to the United States Congress in 1922 to support an anti-lynching bill, H. R. 13.
According to a 2015 report by the Equal Justice Initiative, more than 4,300 Black people were lynched in the U.S. between 1870 and 1950. Lynching, the extrajudicial torture and killing of men, women, and children by mobs, became increasingly common after the end of the Civil War. Although white-owned newspapers frequently published articles about the killings, they assumed the victims were guilty of committing some crime, and often celebrated their deaths. They ran lurid descriptions of the murders rife with racist stereotypes. Many Southern newspapers even advertised planned lynchings ahead of time to aid in attracting a crowd.4
In contrast, Wells assiduously noted clear evidence in support of victims' innocence. In the wake of Moss's murder, she began reporting on lynchings that had taken place across the South. Wells visited the sites of the killings and the homes of the victims' families, interviewed witnesses and relatives, and systematically documented what she learned. In doing so, Wells's work not only demonstrated how lynching was used as a tool of control, it also pioneered the methods common to investigative and data journalism at large.
She also criticized the often-repeated rationale that many victims were guilty of raping white women. She noted that those slain hadn't been accused of rape in more than two-thirds of cases and defended what had been consensual interracial relationships in others. Wells aptly characterized how lynching became a strategy to terrorize Black communities and curtail growing Black political and economic power.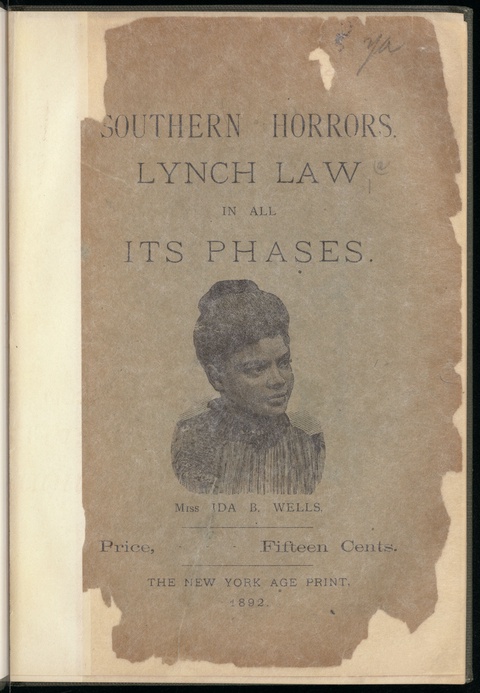 Ida B. Wells, Cover page, Southern Horrors: Lynch Law in All Its Phases, 1892. Schomburg Center, NYPL. Well's pamplet is composed largely of columns she wrote for the New York Age detailing the injustice of lynching by examining in detail recent cases.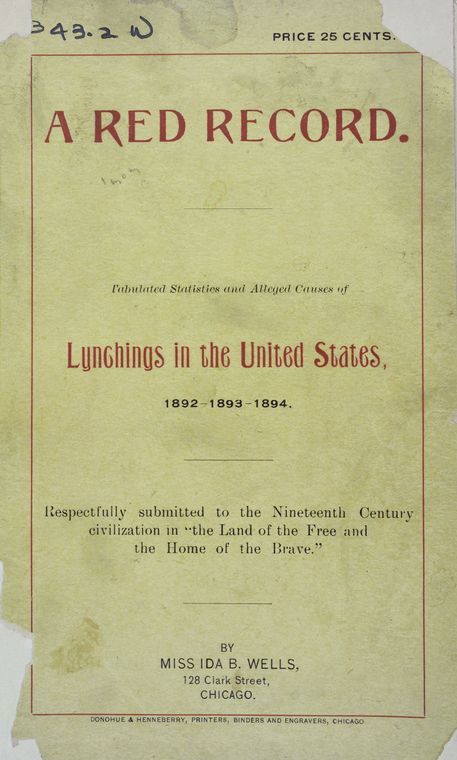 Ida B. Wells, Title Page of A Red Record, 1894. Schomburg Center, NYPL. Wells distributed this publication with tabulated statistics and alleged causes of lynchings to document the rise in violence toward African Americans in the early 1890s.
Wells's articles about lynching garnered wide attention. While she was on her way to New York, a white mob burned down the Free Speech office and threatened to kill her if she returned to Memphis. Wells remained in New York, where she took a position at The New York Age. Wells also compiled her writings and published them as a pamphlet under the title Southern Horrors. "Somebody must show that the Afro-American race is more sinned against than sinning, and it seems to have fallen upon me to do so," Wells wrote in the introduction.5
Speaking Tours in the U.K. and Backlash in the U.S.
Southern Horrors became the basis for a series of speaking tours she conducted in the United Kingdom in 1893 and 1894. Wells's friend Frederick Douglass, who had written the preface to the pamphlet, had toured the U.K. before. When he turned down an invitation from British abolitionists to speak there again, he suggested Wells attend in his place. Wells spoke to packed crowds at churches and other venues, and her tour was deeply influential. Her visit led to the founding of the London Anti-Lynching Committee, the first of a number of chapters of the group that spanned England and the United States.6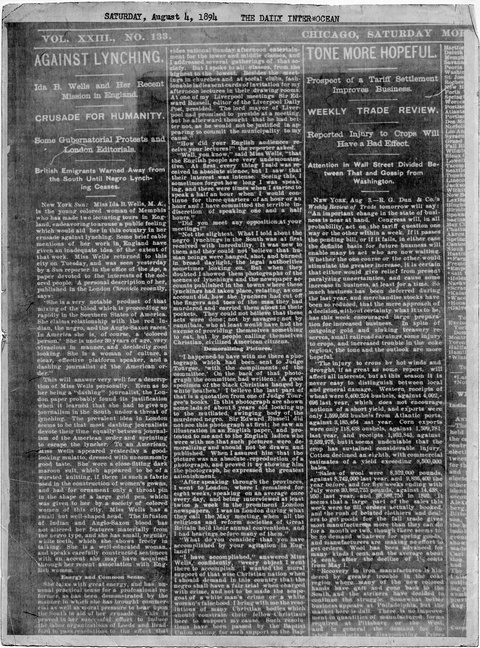 "Against Lynching: Ida B. Wells and her Recent Mission in England." The Daily Inter-Ocean, August 4, 1894. University of Chicago Library. Writing about her speaking tours to Britain made Wells the first African American woman paid by a white newspaper.
Wells's U.K. tours also proved a turning point in her status as a public figure. When the editor of Chicago newspaper The Daily Inter Ocean invited her to write about speaking in England, she became the first paid African American woman correspondent for a white-owned newspaper. Many American papers ran defamatory articles about Wells's character in the wake of her tour; The New York Times called her a "slanderous and nasty-minded mulatress."7 But publicity around the tour also brought more attention to the anti-lynching movement.
Ida B. Wells's Influential Activism
The NAACP and Anti-Lynching
The anti-lynching movement gathered steam. Yet some activists thought Wells's stances were too radical. Booker T. Washington, for example, believed that African Americans should improve their lives through hard work. He made allowances for segregation and was silent on the issue of lynching. Wells, on the other hand, was unapologetic about the need for structural change and full equal rights. At a 1909 conference that led to the founding of the National Association for the Advancement of Colored People (NAACP), when other organizers voted against making anti-lynching a key issue, Wells stormed out of the meeting. She remained on uneasy terms with the organization, even though the NAACP focused more on the problem in the following decades. When its own magazine ran an article in 1912 about the pioneers of the anti-lynching movement, it didn't include Wells.
Racial Justice and Women's Suffrage
Wells also criticized the white leadership of the women's suffrage and temperance movements for their silence or outright discrimination when it came to issues of racial justice.8 Although some suffragists supported voting rights for all women, most white suffragists opposed granting Black women the vote. They believed it would make Southern politicians unwilling to support the measure. At the 1913 Suffrage Parade, a major rally in Washington, D.C., organizers insisted that Black women delegates march in a segregated block at the back. Wells refused. During the parade, she slipped to the front of the group.
A Lasting Influence
After settling in Chicago in 1895, Wells continued advocating for change as a journalist, speaker, and activist. Her marriage to lawyer and civil rights activist Ferdinand L. Barnett, a founding editor of the first African American newspaper in Chicago, was uniquely egalitarian for its time. Barnett cooked dinner for their children most nights and cared for them while Wells spoke on tour. Although her influence waned later in life as more moderate leaders took center stage in the fight for racial justice, she maintained an active political career. She lobbied the presidential administrations of William McKinley, Theodore Roosevelt, Woodrow Wilson, and Warren G. Harding to pass anti-lynching legislation.9 She founded multiple influential organizations, including the National Association of Colored Women; advocated for equal education for Black children; and ran for Illinois State Senate in 1930. Although she faced discrimination throughout her lifetime from both male civil rights activists and white suffragists, Wells won lasting victories in the struggles for women's rights, civil rights, school reform, and many other causes. In 2020, she was awarded a posthumous Pulitzer Prize Special Citation for her contributions to journalism and human rights.
Citations
3.
Myrick-Harris, "Against All Odds."
6.
Myrick-Harris, "Against All Odds."