Albarello Jars from the Medieval Apothecary
By Curationist•May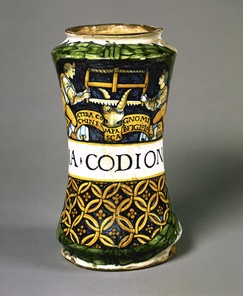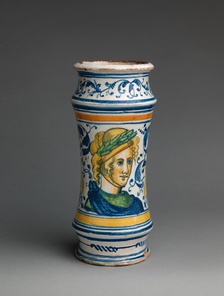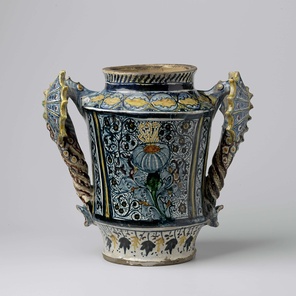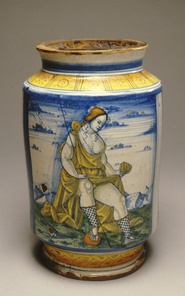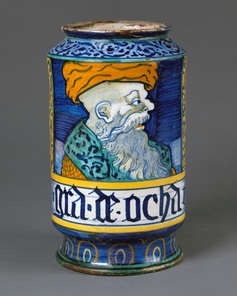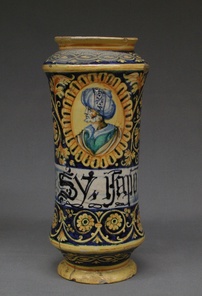 About this Collection
Created by Reina Gattuso.

For pre-modern Europeans, magic, medicine, and cooking existed on a continuum. Spices often served all three functions.1 Europeans have craved Asian incense and spices since the ancient Greek era, and obtained them largely through Arab and Persian traders on the westernmost edge of the Silk Road.

Ideas, technologies, and art also traveled along the Silk Road. Albarellos are one such artistic form. Artisans made albarellos of majolica, or tin-glazed earthenware. Artisans first started making these spice and medicine jars in the Middle East and Central Asia. The oldest example in this collection dates to Samarkand in the 10th century. The jars likely entered Europe through Al-Andalus, in modern-day Spain,2 and became common in medieval and renaissance Spain and Italy. The tin-glazing technique, which originated in 9th century Iraq, traveled with albarellos.3

This collection of albarellos, dating from the 9th to the 16th century, demonstrates the strong North African influence in Spanish and Italian art. Muslim rulers controlled both the Iberian Peninsula and Sicily for much of the medieval era. Artisans decorated one 14th century albarello, from the Kingdom of Granada, with pseudo-Arabic letters. Meanwhile, a few Italian examples feature "Moro" motifs, North African Moorish-inspired figures in turbans. Moro designs remain popular in Sicilian art.

CITATIONS
1 Mitchell, Laura. "Magic or Medicine? Healing Charms in Fifteenth-Century English Recipe Collections." The Recipes Project, 12 Sept. 2012, recipes.hypotheses.org/149. Accessed 21 March 2022.
2 "'Albarello' With a Shepherdess Lifting Her Skirt." The Walters, art.thewalters.org/detail/32876/albarello-with-a-shepherdess-lifting-her-skirt/. Accessed 21 March 2022.
3 "Tin-glazed Pottery." Wikipedia, https://en.wikipedia.org/wiki/Tin-glazed_pottery. Accessed 15 April 2022.
Save this work.
Start an account to add this work to your personal curated collection.