Women's Reflections in Renaissance and Modern European Painting
By Reina Gattuso•July 2022•11 Minute Read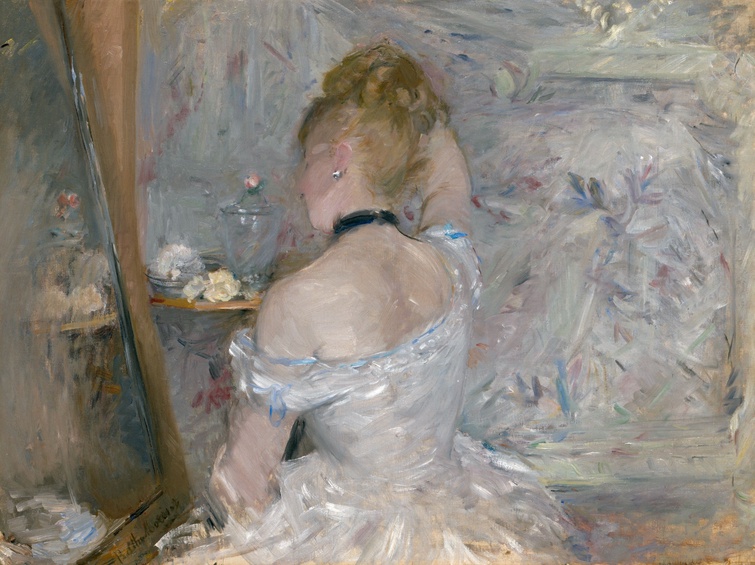 Berthe Morisot, Woman at Her Toilette, 1875/80. Art Institute of Chicago. Berthe Morisot painted bourgeois women with a soft sensuality, employing wispy, cool brushstrokes.
Renaissance and modern European artists used mirrors in allegories of vanity, ephemerality, and the illusion of art. They associated mirrors with women, reflecting patriarchal beliefs about women's "weak" moral character. Contemporary feminist and queer artists challenge this sexist symbolism, using mirrors to create self-portraits that demonstrate defiant self-possession.
Reina Gattuso is a content writer on the Curationist team, and an independent journalist covering gender and sexuality, arts and culture, and food. Her journalism connects analysis of structural inequality to everyday stories of community, creativity, and care. Her work has appeared at Atlas Obscura, The Washington Post, Teen Vogue, The Lily, POPSUGAR, and more. Reina has an MA in Arts and Aesthetics (cinema, performance, and visual studies) from Jawaharlal Nehru University in New Delhi, India, where her research focused on sexuality in Hindi film. She writes and teaches writing to high school students in New York City.