Akua ba Fertility Dolls from Akan Ghana
By Curationist•May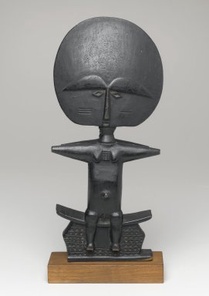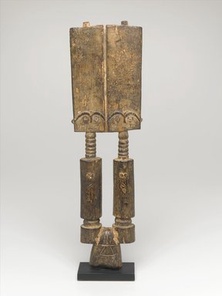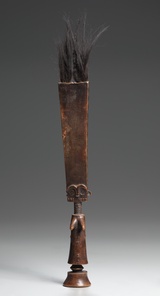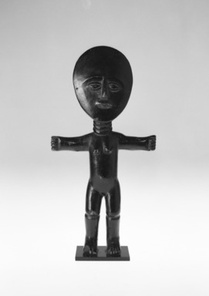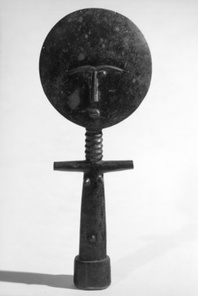 About this Collection
Created by Reina Gattuso.

The Akan peoples, including the Asante, Fante, and other groups in current-day Ghana, are matrilineal. Akan people share a powerful legend about fertility. A woman named Akua wanted to conceive a daughter, but was not able to. She approached a diviner, a spiritual practitioner, for help. The diviner told her to have a carver make her a wooden figure, and to care for this carving as though it was a real child. Soon after, Akua conceived and then gave birth to a baby girl. Thereafter, Akan women began to commission wooden akua ba—literally "child of Akua"—figures as fertility aids. Akua ba have breasts and other features representing idealized young women's beauty. Their high, oval foreheads indicate the practice of cranial shaping of newborns. The rings of fat around the necks signify prosperity and fertility.1 The figures are female, reflecting the Akua myth and Akan matrilineal culture.2 The figures are flat to enable women to carry them on their backs like infants. Women who commission akua ba figures offer them symbolic food and honor them at the family altar. If women conceive, they offer the akua ba figure to a nearby shrine to honor the spirits who aided them, or give them to a family member also trying to have a baby.3 Since the early 20th century, the form of akua ba has changed as they became increasingly prized on the tourist market. Artists began to make more naturalistic figures, carving distinct legs where they would previously have included only pedestals. As tourist souvenirs, akua ba are divorced from their original context. Many Westerners have come to see them as generalized symbols of Africa rather than the spiritually powerful and emotionally charged objects they are.4 Some 21st century Akan women continue to use akua ba as fertility aids, but the practice is slowly disappearing.5 This collection includes examples of akua ba from Fante and Asante makers. They date from the 19th and 20th centuries.

CITATIONS
1 "Female Fertility Figurine (akuaba)." The Met, www.metmuseum.org/art/collection/search/312279. Accessed 18 March 2022.
2 Klemm, Peri. "Akua'ba Female Figure (Akan peoples)." Khan Academy, www.khanacademy.org/humanities/art-africa/west-africa/ghana/a/akuaba-female-figure-akan-peoples. Accessed 18 March 2022.
3 "Female Figure (akua'ba)." The Cleveland Museum of Art, www.clevelandart.org/art/1975.158. Accessed 18 March 2022.
4 Klemm.
5 Kushiator, G., Rahman, A., and Ofori, D.H. "The Influence of Western Culture on Traditional Art Forms and Cultural Practices: 'Akuaba' Doll Among Akan Women in Africa." Adrri Journal of Arts and Social Sciences, vol. 17 no. 6, July 2020, https://journals.adrri.org/index.php/adrrijass/article/download/543/518. Accessed 20 April 2022.
Save this work.
Start an account to add this work to your personal curated collection.