The Price of Freedom: Nancy E. Prophet and Black Artists in Paris
By Colony Little•July 2022•11 Minute Read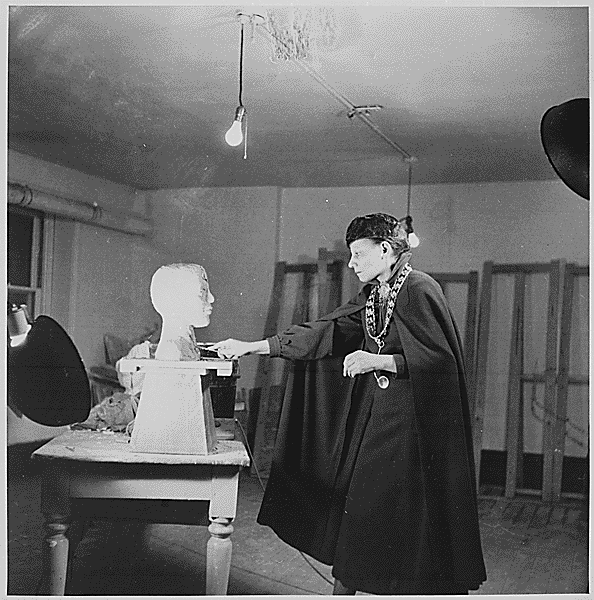 Kenneth Space, Elizabeth Prophet, sculptress and teacher, 1936-1937. National Archives Catalog, unrestricted. Photograph of Nancy Prophet in her studio working on a clay bust of a man.
One of the Harlem Renaissance artists who blazed new artistic trails in Paris, sculptor Nancy Elizabeth Prophet fled racism and sexism in the United States to create thoughtful depictions of African-Americans.
Introduction
During the Great Migration, African-Americans fled the tyranny of the Jim Crow South to seek refuge in Northern cities. As the Black population in New York City surged, the neighborhood of Harlem became the epicenter of cultural transformation. This Harlem Renaissance produced a seismic wave of culture, including literature, music, and visual art. The movement not only defined an era, but radically shaped the Black experience across America.
And the Harlem Renaissance resonated far beyond New York. In the 1920s, Black cultural leaders relocated to France, seeking a safe haven from ongoing segregation and racism. Paris's 18th arrondissement of Montmartre became a spoke of Harlem's intellectual hub.
Sculptor Nancy E. Prophet was the first Black woman to graduate from the Rhode Island School of Design. In 1922, four years later, she moved to Paris. She would spend twelve years in France studying at the École des Beaux-Arts, showing at salons, and perfecting her skills.
Prophet's move to Paris was both epiphanic and catastrophic. Despite the patronage she received from mentors and close associates, including painter Henry O. Tanner, writer W.E.B. DuBois, and poet Countee Cullen, her years abroad were marked by extreme hardship while she languished in poverty and relative obscurity.1 As a biracial, female artist, Prophet's struggles were undoubtedly compounded by bigotry. She continued to struggle with her identity for decades following her return to the United States in the 1930s.
Nevertheless, the City of Lights inspired some of Prophet's most powerful art. Of the numerous pieces she created during this time, three specific sculptures represent her experiences with freedom, poverty, and despair. As the artist wrote in her journal, "Beauty is conceived in paradise but found in the depths of hell."2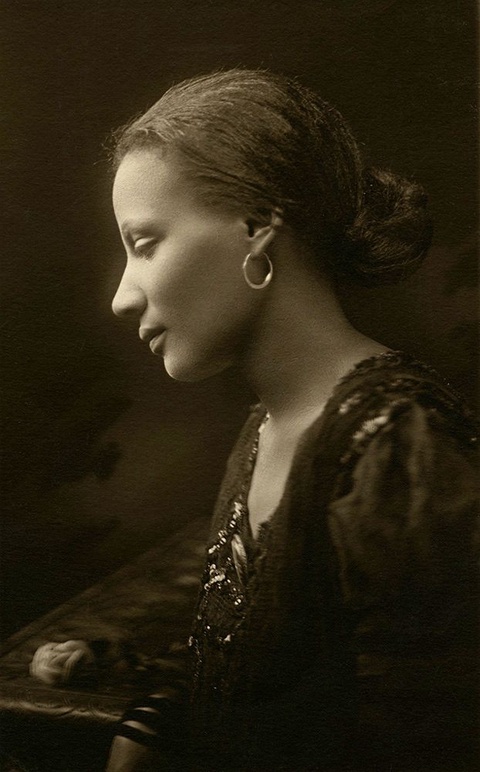 A Sojourn in New York City
Nancy Elizabeth Prophet was born in Warwick, Rhode Island in 1890 to an African American mother and Native American father. She enrolled as the first Black student at the Rhode Island School of Design when she was 24 years old. To pay tuition, Prophet worked as a stenographer in a law firm, then as a housekeeper. While at RISD she studied drawing and portraiture and married Francis Ford, a Black student at Brown University. When she graduated in 1918, she moved to New York. She attempted a career as a portraitist, but commissioned work was limited for a Black female artist. During her brief time in the city, she forged a relationship with artist Gertrude Vanderbilt Whitney, who would become a benefactor and collector of Prophet's work. She eventually went home to Rhode Island.3
A Disappointing Return to Rhode Island
Upon her return, Prophet sustained her artistic ambition. She took post-graduate sculpture classes at RISD. Soon, her work was accepted to a local exhibition in Providence. But her inclusion was conditional. She was asked not to attend the segregated vernissage or reveal her African-American identity.4 She withdrew her submission and abandoned her ambitions to launch a career in her home state. Across the Atlantic, France beckoned with the promise of a creative sanctuary where Prophet could develop her artistic voice.
The Lure of Paris
1920s Paris offered Black expatriates the safety, support, and creative freedom withheld from them in the United States. With opportunities to participate in salons and exhibit their work within more inclusive circles, Black visual artists followed the trail blazed by artist Henry O. Tanner, who became one of the first Black painters to move to Paris in 1891. This newfound artistic freedom shaped the oeuvre of many of the artists of the Harlem Renaissance.5 Their autonomy facilitated an outburst of cultural production in the visual arts that gave the artists acclaim, credibility, and gravitas.
Prophet Moves to Paris
Prophet decided to save money for the passage to France. In order to continue sustaining the household that included herself, her husband, and her widowed father, she reluctantly returned to working as a housekeeper. She successfully raised scholarship funds, and laid in $1,000 for her move. However, Prophet ended up loaning a large portion of her savings to a family member right before making the voyage. She arrived in Paris on August 11, 1922 with $380 in her pocket.6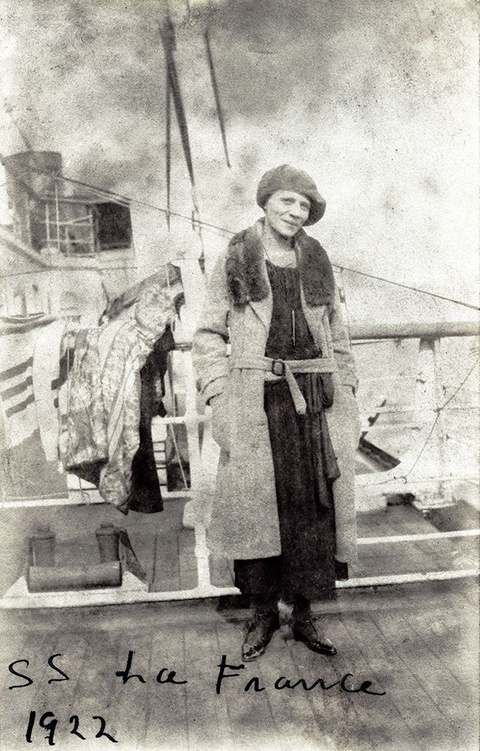 Prophet went to L'École de Beaux Artes and studied under the tutelage of sculptor Victor Joseph Jean Ambrose Segoffin, honing a style that included carved busts and life-size statues. She supplemented that foundational training with instruction in marble carving from the Swiss artist Oscar Waldmann and the Polish sculptor Kousouski.
Dogged Determination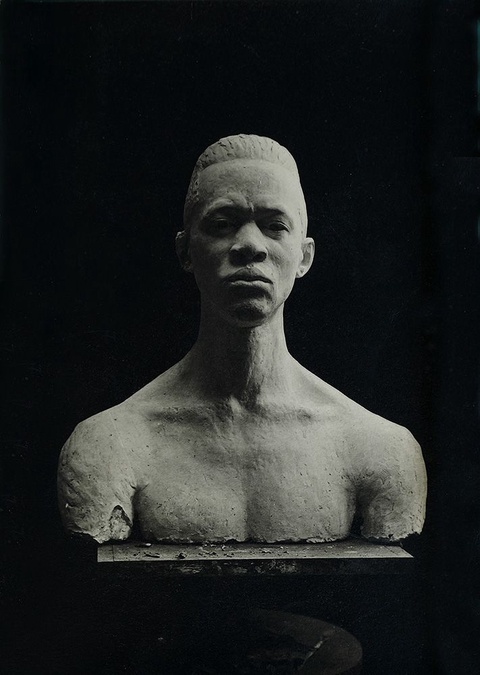 She was determined to exorcize the racism and oppression she experienced in the United States as she forged this new path in Paris. In her journal, Prophet wrote, "As soon as I could stand up, I went to work, sick, but with a dogged determination to conquer." She was fortified "with a calm assurance and savage pleasure of revenge."8 The first work Prophet made in Paris was an untitled clay bust believed to be a likeness of her husband.7 She labored over the piece for a month. Her subject's eyes are downturned beneath a faintly furrowed brow that reads as calm and resolute; the artist would repeat these contemplative, meditative facial details in future works. A version of the same bust in wood, titled Negro Head, was exhibited at the Salon d'Automne, Sociéte des Artistes Français, in Paris in 1924.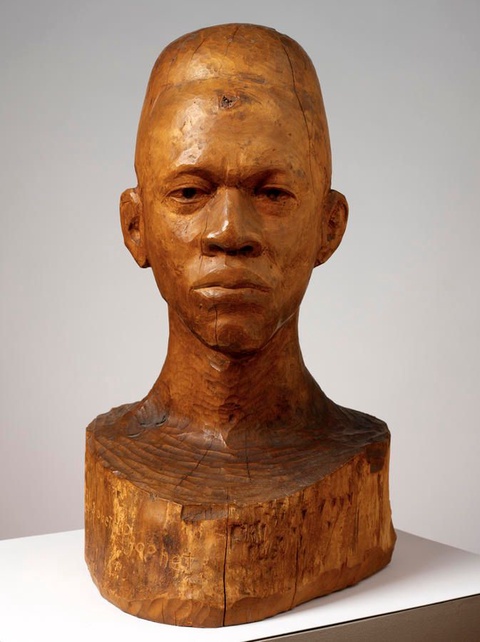 Negro Head was crafted from a dark hardwood, and bears the natural striations of the material. The imprints her carving tools left behind lend the work an aged look. This technique became a signature motif among the wooden busts she created in Paris.
Will, Poverty, and Prayer
According to her diary, Prophet worked on her first life size sculpture, titled La Volonte ("The Will") in 1925. Her relationship with her husband had become estranged, and she attempted to leave him when she began the piece. By the end of 1925, she had also begun work on the bust of a man she met in a café. She described the experience of creating that work as "the most delicious sensation of rightness [sic], feeling that harmonic accord of my forces which I have been trying for years to attain." Her strained relationship forced her to seek alternative living arrangements and Prophet's quest for freedom led her into further debt. In April 1926, Prophet destroyed La Volonte out of frustration with the technical merits of the piece.9 Given her disintegrating marriage, this reaction not only expresses her confidence to walk away from the work, it also suggests her struggles to extricate herself from the unfulfilling people in her life. That June, she moved into a small studio in Montparnasse. The first piece she attempted to create in this new space was another full scale sculpture. She titled it aptly: Poverty.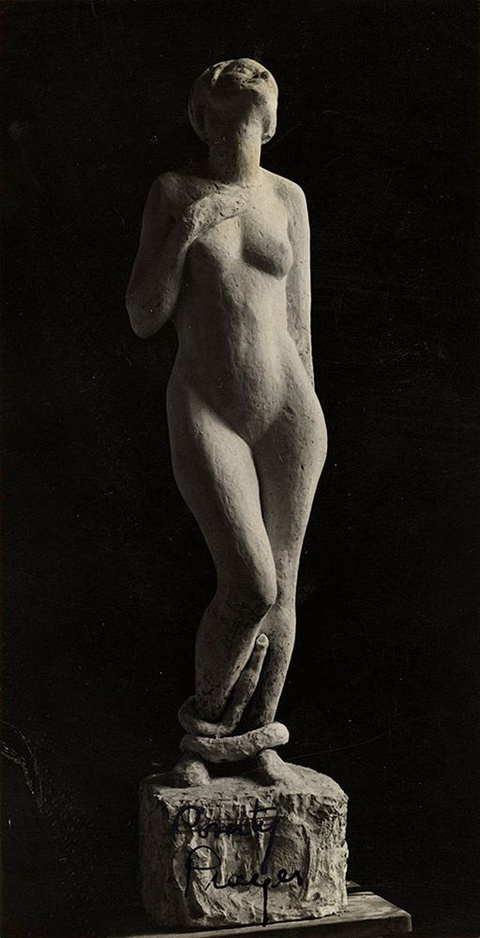 The subject is a bare-breasted woman in contrapposto with her head tilted back. A snakelike form binds her ankles and feet, possibly representing the artist's state of mind. The figure ascends from a craggy, rough hewn base, another convention Prophet returned to in other works. The base offers a textural contrast and makes her subject appear to emerge from the treacherous elements of the natural world. The dichotomy between the constriction of the figure's legs and her skyward gaze is mirrored in the evolution of the piece's title. Prophet renamed the piece Prayer.
The Evolution of Discontent and Prophet's Success in Paris
Over the next three years, the artist continued to battle with loneliness, marital discord, and financial insecurity. By 1929, Prophet sold a work to pay for her husband's passage back to the United States. That same year, she completed Discontent, a bust of the man she had met at the café.10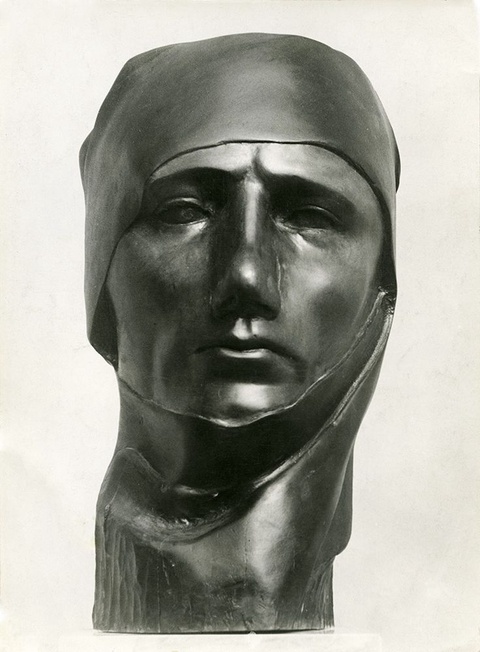 After years of struggles, Prophet experienced some personal and professional relief from the networked community of Black Parisian expatriates. She first met artist Henry O. Tanner through W.E.B. DuBois, with whom Prophet corresponded before she moved overseas. While visiting Tanner's studio in France in 1929, Prophet met Countee Cullen, who immediately began to amplify her work within his social circles.11 Prophet also hosted sculptor Augusta Savage in her studio in 1929 at the behest of DuBois.
Leveraging her support from DuBois and Cullen, who both championed her work in the United States, Prophet exhibited sculptures in both countries. She returned to New York in the late fall of 1929 and remained for a year. During this time, Prophet sold Discontent for $1,000 to two RISD donors who placed the piece in the school's permanent collection. That same year, Prophet won the renowned Otto Kahn Prize for sculpture from the Harmon Foundation after she was personally recommended by Tanner.12 She also built her social network among Harlem Renaissance writers and influencers.
After returning to Paris, Prophet participated in exhibitions at the Salon d'Automne and the Société des Artistes Français de Beaux Arts. In 1932 she won the grand prize at the Newport Art Association, where she exhibited Discontent and Congolaise (1931), one of her most famous works. Gertrude Vanderbilt Payne Whitney bought Congolaise for the Whitney Museum's permanent collection.
Return to the United States
While recognition and accolades were plentiful, commercial success still eluded Prophet. The artist repatriated to the United States in 1934, the height of the Great Depression, to teach art at Atlanta's Spelman College, a historically Black women's liberal arts school. In Atlanta she taught with the painter and muralist Hale Woodruff, who also established Atlanta University's art program that year. Balancing teaching with sustaining her own sculptural practice became a challenge for the artist. After ten years of teaching, Prophet returned once again to Rhode Island.
Identity Struggles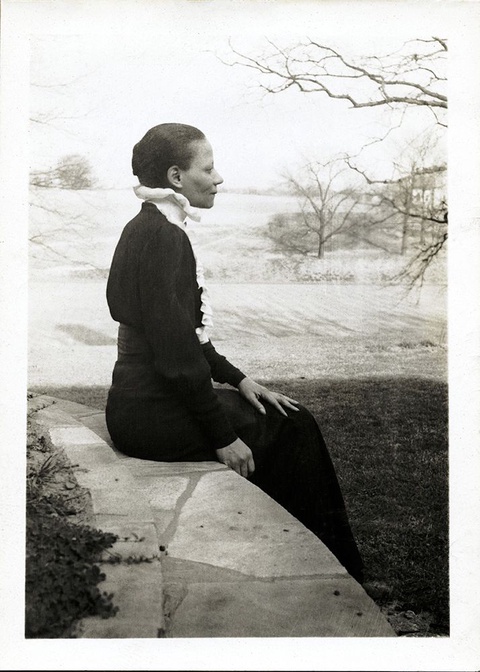 Upon her return to the States, the specter of Prophet's former struggles with racism and identity came to the fore. She was unable to build upon her creative success or teaching skills. Prophet reverted back to housekeeping, stopped producing sculpture, renounced her African-American identity, and solely claimed her Native American heritage. The reasons for this dramatic reversal are unknown, yet she had expressed fluidity with her identity throughout her life, down to the spelling of her name. Additionally, according to writer Teresa Leninger-Miller in her book New Negro Artists in Paris, "Prophet may have been involved in masking her identity in other ways," such as appearing "as 'Eli' in an exhibition catalog in 1927." Miller notes that, as "an intensely private person, she likely would have relished the continuing mysteries" surrounding her identity.13
Prophet cultivated an enigmatic personage. Photos of the artist from her archives mirror the calm, assured, meditative qualities of her sculptural subjects. Stylishly, gracefully poised, solitude appeared to be the artist's desired state. Cullen's first impressions of Prophet astutely summarize the person behind the mystery: "She swept into the studio with unequaled éclat, wearing a flowing black cape and a broad black felt hat…she seemed to be at peace with herself and content with the direction of her life and art."14 For Prophet, the locus of that peace was Paris. Back in the States, the emotional price of discrimination was simply too high for her to flourish.
Colony Little (she/her/hers) is a Raleigh-based freelance writer and the creator of Culture Shock Art, a site dedicated to the synergies among art, music, and design. As a Black woman with familial ties to the South, Little presently writes with a particular focus on amplifying the artistic voices of Black creators who are influenced by and create work in the American South. Freelance writing credits include Artnet News, ARTnews, The Art Newspaper, ARTS.BLACK, CARLA, Hyperallergic, W Magazine, and Walter Magazine in North Carolina. Little was a 2020 recipient of the Andy Warhol Foundation Arts Writers Grant.
Citations
1.
Du Bois, W. E. B. "Letter from W. E. B. Du Bois to Julius Rosenwald Fund, November 8, 1938." W. E. B. Du Bois Papers (MS 312), Special Collections and University Archives, University of Massachusetts Amherst Libraries, credo.library.umass.edu/view/full/mums312-b086-i445. Accessed 4 July 2022.
2.
Prophet, Nancy Elizabeth. "Diary: Paris, France." 1922. Brown University Library Archival & Manuscript Collections Online, repository.library.brown.edu/studio/item/bdr:786291/. Accessed 1 July 2022.
3.
Farrington, Lisa. Creating Their Own Image: The History of African-American Women Artists. Oxford University Press, 2005. Google Books, books.google.com/books? id=I7TS6bFWCbUC&source=gbs_navlinks_s. Accessed 5 July 2022.
4.
Cullen, Countee. "Elizabeth Prophet: Sculptress." Opportunity Magazine, July 1930, hdl.handle.net/2027/inu.30000117884803. Accessed 2 July 2022.
5.
Rhone, Nedra. "How 'the new negro' started a Renaissance, and not just in Harlem." Atlanta Journal-Constitution, 16 February 2022, www.ajc.com/news/martin-luther-king-jr/how-the-new-negro-started-a-renaissance-and-not-just-in-harlem/INJS645S2VBV7JFIAMEOXCSNKI/. Accessed 12 July 2022.
7.
"Prophet, Nancy Elizabeth. Negro Head. Before 1927." RISD Museum, risdmuseum.org/art-design/collection/negro-head-35780#content__section--description--953781. Accessed 4 July 2022.
11.
Robinson, Jontyle Theresa and Maya Angelou. Bearing witness: Contemporary Works by African American Women Artists. Spelman College and Rizzoli International Publications, 1996, pp. 62, archive.org/details/bearingwitnessco00robi/page/62/mode/2up?q=nancy+prophet. Accessed 2 July 2022.
12.
Leininger-Miller, Theresa A. "The Artistic Career of a Near Expatriate: Nancy Elizabeth Prophet in Paris, 1922-1934." New Negro Artists in Paris: African American Painters and Sculptors in the City of Light, 1922-1934. Rutgers University Press, 2001, pp. 44, archive.org/details/isbn_9780813528113/page/16/mode/2up?q=nancy+prophet. Accessed 2 July 2022.
Colony Little (she/her/hers) is a Raleigh-based freelance writer and the creator of Culture Shock Art, a site dedicated to the synergies among art, music, and design. As a Black woman with familial ties to the South, Little presently writes with a particular focus on amplifying the artistic voices of Black creators who are influenced by and create work in the American South. Freelance writing credits include Artnet News, ARTnews, The Art Newspaper, ARTS.BLACK, CARLA, Hyperallergic, W Magazine, and Walter Magazine in North Carolina. Little was a 2020 recipient of the Andy Warhol Foundation Arts Writers Grant.