Plaque - Hariti and Child
Brooklyn Museum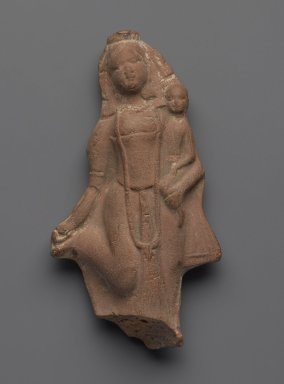 About the work
This plaque of the goddess Hariti is from around 1800 in Mathura, in what is now northern India. Mathura is a significant holy site for devotees of the Hindu god Krishna. It was also a major center of Buddhist art in India in the first millennium CE. In this terracotta plaque, perhaps from a temple, we can recognize Hariti from the child in her hands. Her dress is much more simple and modern than in other representations. She lifts her foot to pull a thorn from it, a common pose of yakshinis (nature spirits) and apsaras (heavenly feminine spirits) in Indian art. This pose continued to be a popular position for youthful beauties, both human and divine, in 18th and 19th century Indian art, for example in this Rajasthani miniature and Raja Ravi Varma's famous painting of Shakuntala.
Save this work.
Start an account to add this work to your personal curated collection.
Work details
Help us improve the metadata.
Is something is missing?