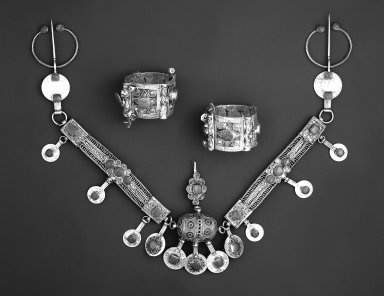 About the work
Many Berber ornaments were made by Jewish artisans, leading to a blend of customs and styles. The fibula, a pectoral ornament expressly worn by Jewish and Berber women, is a clasp to hold down capes. The triangular shape that forms as a result of connecting the piece to either side of a garment symbolizes the womb. This adds potency to the egg-shaped ornament at its center known as a tagm[o]ut or taguemount. It is molded in silver and inlaid with coral and carnelian. The materials and symbols create both a practical object of use and a protective amulet for fertility."Fibula." Smithsonian National Museum of African Art, 2020, https://africa.si.edu/collections/objects/16239.
Save this work.
Start an account to add this work to your personal curated collection.
Work details
Help us improve the metadata.
Is something is missing?